Earphones are an essential part of our everyday lives. They allow us to listen to music, podcasts and more without disturbing those around us. But with so many options on the market, it can be tough to find the perfect pair for you. That's why we created this blog post – to help you find the best earphones under 1000.
We'll start by discussing what makes each pair unique. Then we'll talk about why they might be a good fit for your needs. Finally, we'll discuss passive noise cancellation and how it can improve your listening experience.
Best Earphones Under 1000
JBL earphones with mic
JBL Endurance Run
JBL C100SI
JBL C200SI
Realme Buds 2
Sony MDR-EX15AP
Boat earphones
BoAt 225
Boat Bassheads 242
BoAt Bassheads 102
Boult Audio BassBuds X1
We will discuss what makes each pair unique and why they might be a good fit for your listening needs. We will also talk about passive noise cancellation and how it can improve your overall listening experience.
Type of earphones
We will discuss the best headphone in our next post. We limit this article only to in-ear earphones, and these earphones may be of the following type.
Bluetooth earphones
Wired earphones
In-ear earbuds
Earphones for gaming
This article will stick to the best earphones under 1000 (wired) in India. Also, we have selected these earphones on the basics of comfort, Sound quality, Noise cancellation, and Special Features.
There are so many brands which provide you with their best products. We picked some of the best-selling earphones from Brands like Sony, JBL, Realme, Boat, etc.
Our Top picks
JBL earphones with mic
JBL Endurance Run
JBL C100SI
JBL C200SI
JBL Endurance Run
The JBL Endurance Run has a unique IPX5 Sweat Proof Design, which means that there are no worries about sweat, no matter how intense your work workout is. Flipbook Technology allows users to wear the earphones either in-ear or behind-the-ear. Earphones are lightweight and comfortable to use, and because of TwistLock and FlexSoft technologies, these earphones fit in the ears so securely that the user can perform any intense workout.
The hands-free call is another prominent feature of JBL endurance. These earphones support Google now or Siri.
POSITIVES
IPX5 sweat proof design

Twistlock and FlexSoft Technologies.
NEGATIVES
Volume is low and little bit distorted at high levels
JBL C100SI
The JBL C100SI comes in a Premium look and are lightweight and comfortable. 3.5mm Gold Plated Jack to provide better connectivity. JBL C100SI comes with a one-button remote and noise isolation microphone. Moreover, C100SI supports voice assistants. Finally, the sound quality. If you purchase a JBL product, you will always get the best sound quality.
POSITIVES
Sound quality is good

Noise isolation microphone
NEGATIVES
Bass quality is little bit low

Wire quality is low
JBL C200SI
JBL C200SI is an upgraded version of JBL C100SI. It resembles all the features that C100SI has. But since it is an upgrade, C200SI is better a bit in terms of sound quality. JBL C200SI is also lightweight, and you have to pay approximately a hundred bucks more than C100SI.
POSITIVES
Improved Bass

light weight
Realme Buds 2
The Realme Buds 2 headphones, which are very popular, are an excellent choice if you're on a budget. They have braided wires and a cable organizer that will keep your cables neat and organized. The Realme Buds 2 also features a built-in microphone, which means you can take phone calls without having to raise your volume to drown out the people around you.
POSITIVES
 Great Bass

Mids and lows are also great.
NEGATIVES
Wire quality is not up to the mark
Sony MDR-EX15AP
The Sony MDR-EX15LP headphones are excellent for music lovers. They provide high-resolution treble and midrange sounds, with deep and powerful bass. The headphone uses 400 kJ/m3 high-power neodymium magnets, which are said to produce a wide spectrum of sounds. The cord slider helps prevent tangling, so you can easily move it from one side of the headphone to the other.
The MDR-EX15AP is equipped with a 9mm driver unit with a dome type. It can handle 100 mW of power. It has 16-ohm impedance at the factory, which makes it ideal for studio monitoring. The MDR-EX15AP features a Y-type cord and an in-line microphone. The headphones are compatible with iPhone, iPad, and Android devices, and can also be used with the Sony BR-Z635 headphone remote.
POSITIVES
Light weight

Fits comfortably in the ear
NEGATIVES
 Not a great choice for audiophiles.

Little bit expensive
Boat earphones
Boat earphones are also most popular these days. Whether it is boat rockerz or boat earbuds, boat Bluetooth earphones. Here are some of the best earphones under 1000.
BoAt 225
The BoAt 225 wired earphone is an excellent choice if you're looking for a pair of wired earphones under 1000 rupees. They feature a metal casing over each bud and are comfortable and secure. In addition to their excellent quality, the BoAt 225 comes with remote control and an in-line microphone. In addition to the BoAt 225, the jack and the flat wires are worth mentioning
POSITIVES
Better pricing 

Sturdy and strong wires
NEGATIVES
Not for audiophile 

Bass quality is not up to the mark
Boat Bassheads 242
Boat Bassheads 242 in-ear wired headphones redefine fitness fashion and utility. They offer superior sound quality with 10mm drivers and IPX4 sweat protection. Furthermore, they are lightweight, feature an in-line microphone, and have an ergonomic design, and earphones fits into your ears during the workout. These headphones are the best choice for any fitness enthusiast and help you stay motivated for hours.
POSITIVES
Affordable price

IPX4 sweat protection
The boAt Bassheads 102 headphones are wireless headphones with 8mm dynamic drivers for delivering immersive audio and pronounced bass. They also keep the beat atop with a 120cm cable and a 3.5mm jack. These earphones are ideal for anyone who loves to listen to their favorite music while exercising, traveling, or working out. They are compatible with both Apple and Android devices.
POSITIVES
Low Price

Bass Quality is good
Boult Audio BassBuds X1
The Boult Audio BassBuds X1 in-ear headphones are the latest in noise-canceling technology. They have an HD sound and 10mm Extra Bass Driver, and they come with a mic. If you are looking for in-ear headphones with active noise cancellation, you should check out the Boult X1 earphones. They are priced at Rs 399 and are available in two different color variants – Blue and Black.
POSITIVES
In budget phone

Good sound Quality
NEGATIVES
The quality of wires can be better
Which earphone is best under 1k?
BoAt Bassheads 102
Realme Buds 2
JBL Endurance Run
Boat Bassheads 242
Which is better earphones or earbuds?
If you're looking for a way to listen to your music without disturbing anyone else, earbuds may be the best option for you. Earbuds are generally a bit expensive than in-ear earphones, and earbuds' sound quality is also better. However, you can also find good sound quality at a low price in some wired earphones.
How do I choose good earphones?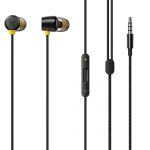 Try to look for earphones with a good IPX rating, quality sound drivers, and the price is also important.